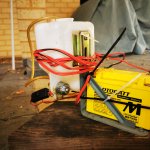 Eventually all the bubbles of air were gone and the system works.
I used a cheat to back flow the system from the Bleed valve with this pump, then used the garden hose to wash the Brake fluid off the ceiling
.
Fitting a Cable is Kids play in comparison, the force to pull is reduced as is to be expected as the slave is 12.7 and the Clutch Slave is 14mm.
Not saying how long it took to do this job.