Backyard Bodger
Staff member
Distributor
Developer
477 Owner
Stock bike on this Dyno is 22RWHP
Add the Big Bore Kit with the Red Box 👹 a Pod Filter and a cheap muffler and you get
26.5
RWHP a bit over 20% see map dated 15/11/22.
Add to that a better exhaust system and the Headline figure improves by 1.4% although looking at the second chart of today's run you will see 2+ RWHP separating the lines from 5400rpm to 7000 ( and beyond
).
27.9
RWHP .
A full 27% increase in usable Real Seat of Pants Power.
All this with a Stock Head and Cam ! , best chart I've seen is 31 RWHP with a larger Throttle Body and a Tec Cam and some Port and Valve work ( same Exhaust) using a Mk1 piston so perhaps the next run will include something like that , more compression, HT Cam, 40mm throttle body! or maybe 36mm
( but not a Mk1 Piston
)
This work has been done with a minimum of Tools, nothing special except a Bike Bench
, single handed so to speak ( alone ) and even half witted at times
Okay First Chart ( stolen off the net) shows HP ! at the Crank so from a Base of 24.5 BHP another 4.9 is added with a good exhaust and a Cam.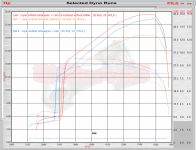 direction!
Last edited: